Join our growing program and reach your goals!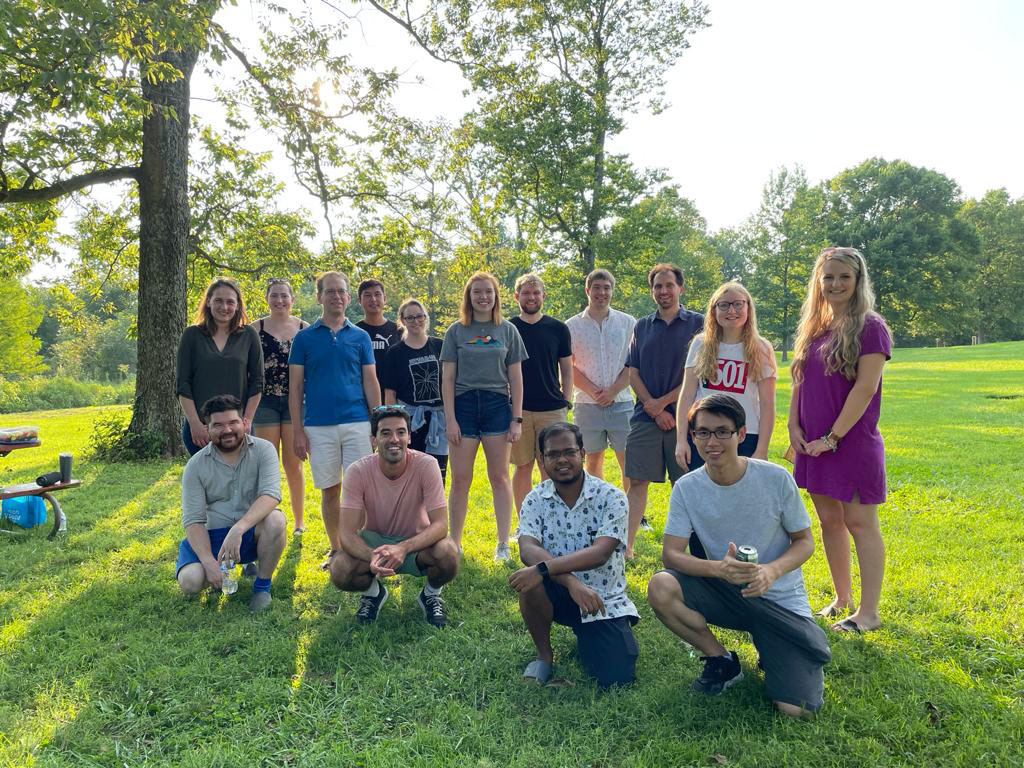 The University of Kentucky offers a rich graduate program in chemical engineering that allows students to immerse themselves in novel research projects across many fields. Reasons you should consider UK include:
A highly collaborative cross-disciplinary research atmosphere with the Colleges of Medicine, Pharmacy, Arts & Sciences and Agriculture, Food and Environment—all within a 10-minute walk of each other.
The department also conducts research through the Center for Applied Energy Research, a nationally recognized leader in renewable energy solutions, as well as the Center of Membrane Sciences, UK Superfund Research Center, Center for Pharmaceutical Research and Innovation, Center for Clinical and Translational Science and the Markey Cancer Center.
Graduate Program Snapshot
100%
PhD graduate students who receive full funding, including tuition, health insurance, and a competitive stipend
35
Enrolled graduate students
55%
Women and/or underrepresented minority PhD students
25%
Students who receive additional competitive internships, fellowships or scholarships
Career Paths
Our graduates succeed in a wide variety of career paths:
Academia and National Labs
Alumni have went on to have independent careers at University of Alabama, Vanderbilt University, University of Rhode Island, University of Michigan-Dearborn and Batelle and Oak Ridge National Lab to name a few.
Industry
Alumni have joined numerous fields and industries. A few examples include stating their own companies, joining the pharmaceutical industry at Moderna, GSK and Abbvie, joining the chemical industry at Johnson and Johnson, Ashland Chemical, and Thermo Fisher or even joining the bourbon industry at Buffalo Trace.
In addition to all of the options, chemical engineers have traditionally ranked at or near the top of starting salaries among all of the engineering professions!
Program Requirements
Most students take 12 courses in our PhD curriculum. To build and improve our student's communication skills, all students serve as teaching assistants for one semester. Students also take a preliminary exam in the first year. The exam is meant to assess student progress and provide guidance for the development of their proposal. The students present their proposal to a committee of four to five faculty members in year two. To complete the program, students submit dissertations and take final oral examinations. For more details, please see the current chemical engineering graduate student handbook.
Tasks
Year 1
Year 2
Year 3
Year 4
Year 5+
Courses

Research

Preliminary Proposal

Proposal

Defense

Teaching Assistant
Research Areas
Advanced Materials: Polymers and Composites
Biotechnology & Bionanotechology
Separations and Purification
Lexington is a great place to live
We are the Horse Capital of the World. Lexington has over 100 parks and a lively atmosphere for all kinds of lifestyles. The city also has four distinct seasons allowing you to enjoy a variety of outdoor activities.
#33 Best Place to Live in the US – U.S. News & World Report
#19 Cheapest places to live - U.S. News & World Report
Collaborative Environment
Students and faculty commonly collaborate on projects. We share resources and expertise to help everyone accomplish their projects. Some groups even have joint group meetings to establish an open environment.
Diversity, Equity & Inclusion
We aim to create diversity, provide equitable opportunities, and develop an inclusive environment within our department.
Safety
The safety of all our students and staff is a top priority. We provide safety training regarding best practices in the research setting. We also prioritize safety as it pertains to the whole person, which includes both physical safety and mental health.