The Elbert C. Ray eStudio, which is located on the third floor of the F. Paul Anderson Tower, offers free tutoring for College of Engineering students through the Tau Beta Pi engineering honor society.
To better protect the health and safety of tutees and tutors, in Spring 2021 we will be offering FREE tutoring fully online. You can join a virtual tutoring room based on your major or a particular course.
Tutoring is available during these hours in Spring 2021:
Sunday 2-6
Monday 2-8
Tuesday 2-8
Wednesday 4:30-8
Thursday 2-8
SCROLL DOWN down to find a tutor for a particular course or major!
Click here to meet with a tutor!
Tau Beta Pi
Peer tutors are upper-division students in the College of Engineering. They offer assistance with homework in EGR and major-related courses. Services are for undergraduate students in the College of Engineering.
Tau Beta Pi tutors in these subjects:
Biosystems Engineering
Chemical Engineering
Civil Engineering
Computer Engineering
Computer Science
Electrical Engineering
Materials Engineering
Mechanical Engineering
Mining Engineering
Calculus
Chemistry
Physics
Most popular courses:
CME 200 (Process Principles)
CS 215 (Program Design)
CS 216 (Software Techniques)
CS 270 (Systems Programming)
EE 211 (Circuits I)
EE 282/282 (Logic Circuits/Digital Logic Design)
EM 221 (Statics)
EM 302 (Solids)
EM 313 (Dynamics)
ME 220 (Thermo)
ME 330 (Fluids)
MSE 201 (Materials Science)
Tutor By Course Calendar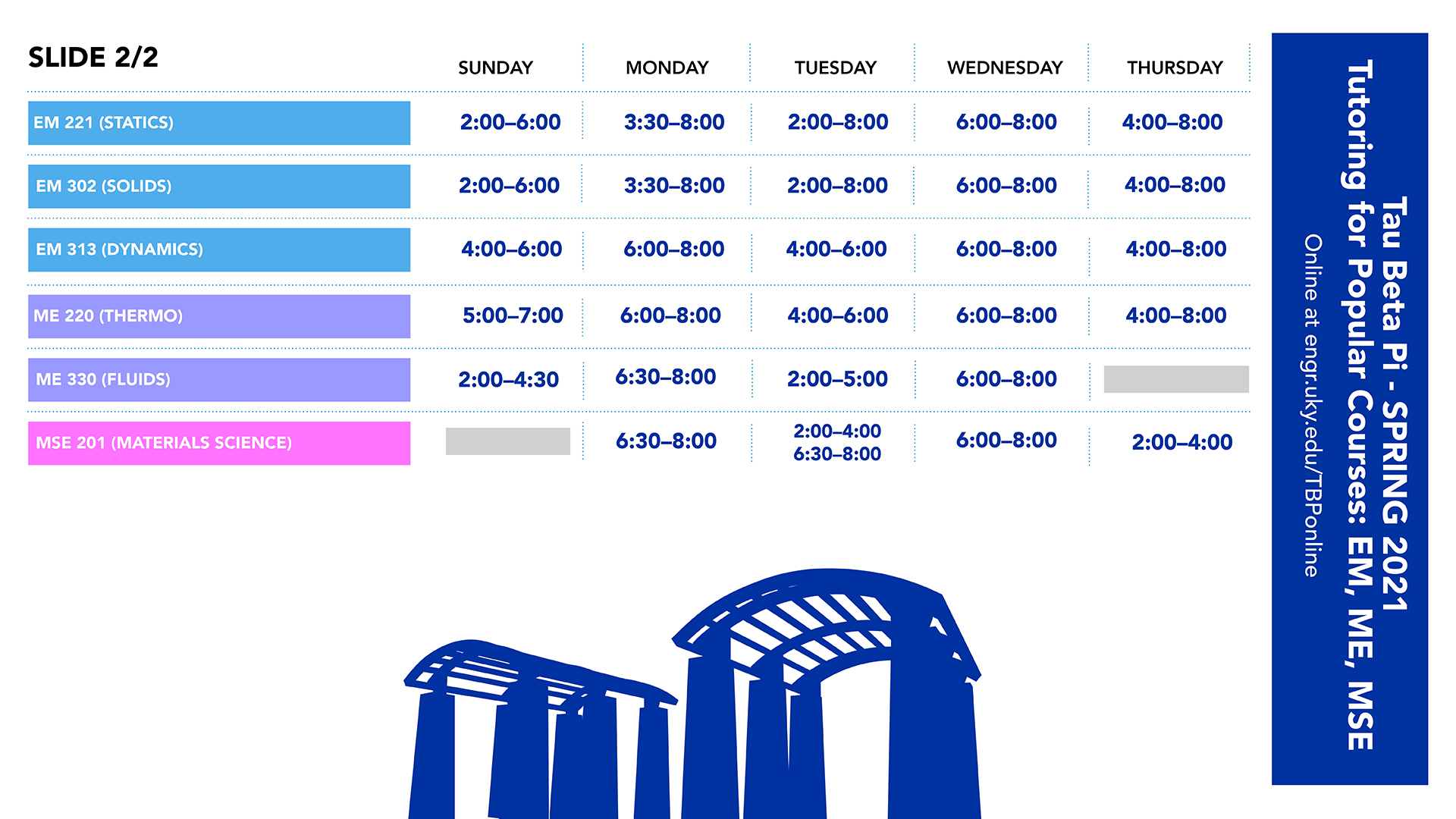 Please direct questions or comments to Susan Herrick at (859) 257-4881 or email at slherr1@uky.edu.