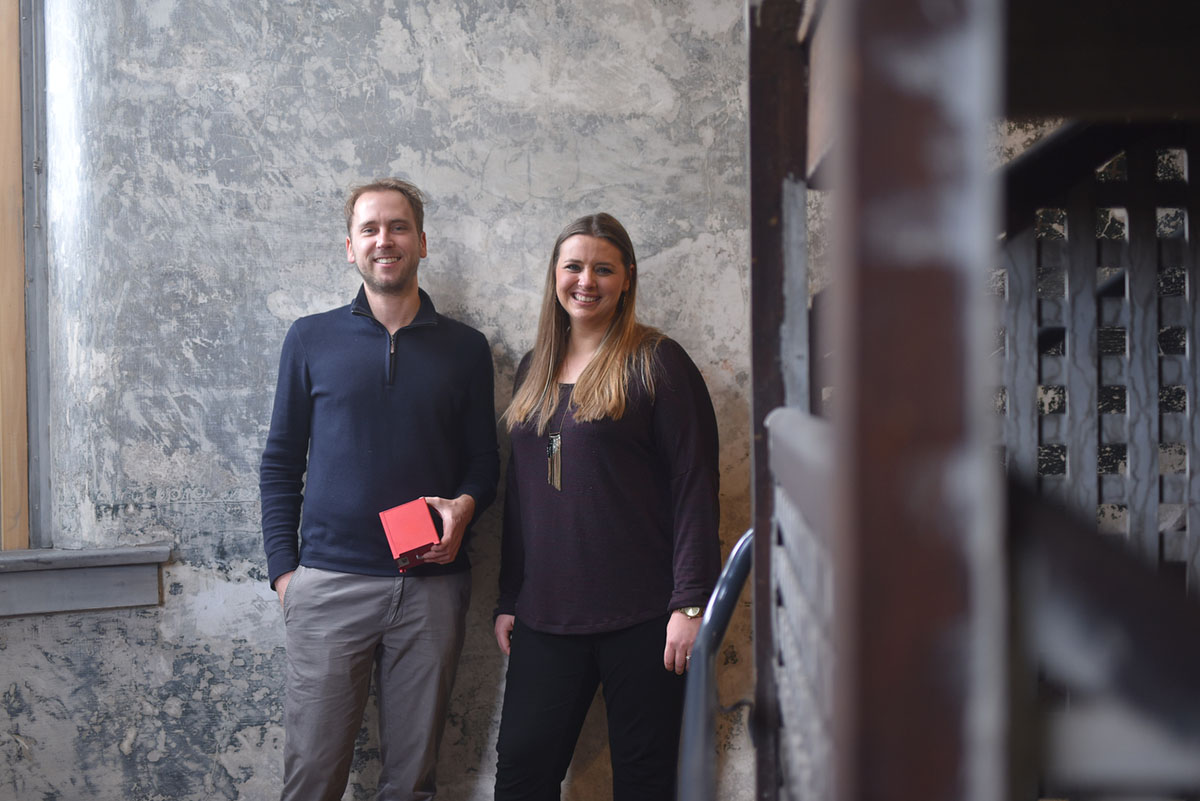 By Kelly Hahn
ORIGIN
Located in downtown Lexington, aerospace startup Space Tango describes itself as "a full-service solution to micro-gravity research and manufacturing."
What, exactly, does that mean? CEO and University of Kentucky College of Engineering alumnus Twyman Clements provides this explanation:
"We design project architectures and experiments specifically for a microgravity — which is close to zero gravity — setting. We want to see how that unique environment affects bacteria, insects, seeds, viruses, pharmaceuticals, materials and more. What we learn in space will enable us to make life better on this planet."
Where does microgravity research take place? On the International Space Station (ISS) — a three-day rocket ride from Earth. Thanks to a Space Act Agreement, Space Tango is able to use the ISS for commercial purposes.
"One of the great things about working with NASA is that they are very accommodating for small companies. Without that, we wouldn't be anywhere," Clements says.
Clements co-founded Space Tango in July 2014. The company has been moving at breakneck speed ever since.
TWYMAN CLEMENTS
To understand Clements' entrepreneurial spirit, one needs to look no further than his upbringing. Clements and his three brothers — all of them UK engineering graduates — learned what life should look like on a cattle farm outside Bardstown, Kentucky.
"My parents are among my biggest influences. They are good people, and they instilled that in me and my brothers," Clements describes. "Plus, they are entrepreneurs themselves. While working in agricultural sales, my father started businesses in real estate and insurance. My mother opened a clothing store."
Despite earning bachelor's and master's degrees in mechanical engineering from UK, Clements insists he is not much of a classroom learner.
"I need to know the problem I'm solving before I learn the tools needed to solve it," he explains.
That's how Clements, as an undergraduate student, ended up working in the Kentucky Space Systems lab operated by another of his mentors, Professor Jim Lumpp. At its peak capacity, the lab contained anywhere from 10-15 students huddled before a bank of computer monitors, interacting with space shuttle launches and the ISS.
"UK helped me the most by giving me an opportunity to work in a lab as an undergraduate," Clements says.
Clements remains connected to the space program at his alma mater. Space Tango is currently engaged with NASA and UK faculty on an $750,000 NASA EPSCoR grant involving small-satellite swarms. Michael Seigler, associate professor of mechanical engineering at UK, is the project investigator.
"I had Dr. Seigler when I was a student, and we kept in touch. We had worked on grant proposals together before, but this was the first to be awarded," Clements says.
While Clements primarily honed his education outside the classroom, he says one class continues to pay dividends in his work at Space Tango: EGR 599, otherwise known as the "Dean's Leadership Class."
"That class was a real game changer because I learned how people with technical backgrounds operated in positions of leadership. I don't need to know all the details of our daily work, but I do need to know what changes as I go higher and higher up the decision tree."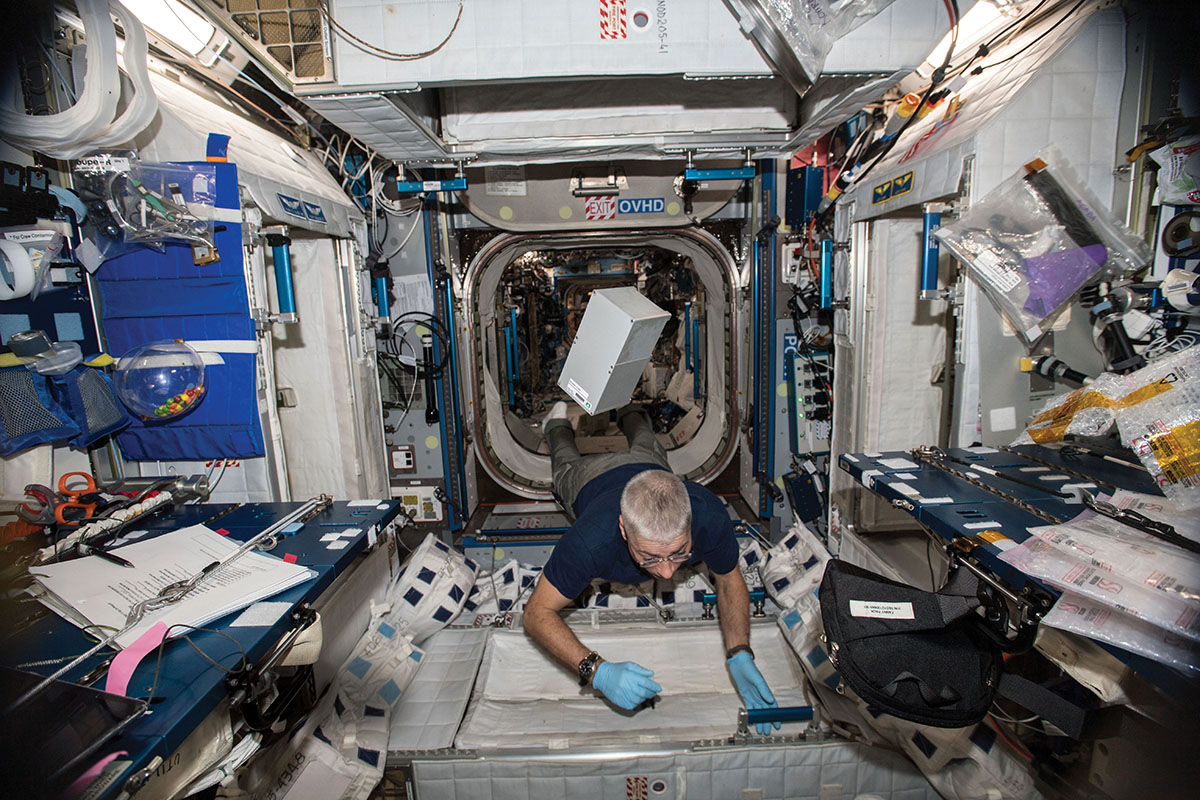 OPERATIONS
The first operational launch was in February 2017. Since then, Space Tango has had eight more launches and shipped 50 total payloads. Because most biological experiments only need about seven days, many can ride back on the same capsule that took them into space.
"Having a high throughput has really helped us," Clements says. "We have significantly expanded our capabilities in terms of our process, technology, institutional knowledge and overall design."
Months, even years, prior to a launch, Clements and his team work with researchers to design experiments that leverage the unique environment of microgravity. Of course, the experiments have to survive transit first. Power constraints aboard the rocket require the team to figure out how to keep experiments alive for the trip.
"We are constantly changing stuff," Gentry Barnett, biomedical engineer at Space Tango and UK engineering alumna, says. "The designs are never static. We put the experiments together and predict how they could fail in the unpredictable microgravity environment. That's the engineering challenge we have to work with."
Two "Tango-Labs" aboard the ISS can house up to 42 units, although some experiments require multiple units. More space may be available if Space Tango can show demand.
Many of the experiments designed by Space Tango belong to a booming area of research called "exomedicine." Barnett describes it as moving medical research into microgravity.
"We want to see if we can find information in a microgravity environment that may lead to breakthroughs on Earth. For example, there may be some real advantages to manufacturing pharmaceuticals in space."
GENTRY BARNETT
When Gentry Barnett visited the University of Kentucky College of Engineering as a high school student, she was disappointed to discover it only offered biomedical engineering at the graduate level. Torn between medicine and engineering, Barnett had considered biomedical engineering an attractive combination. Rather than go elsewhere, Barnett decided to pursue an undergraduate degree in electrical engineering as a path toward her graduate work in biomedical engineering.
"It's not a common route," admits Barnett, since many biomedical engineering students major in mechanical, chemical or materials engineering as undergraduates. "But something about electrical engineering challenged me, so I made it my choice."
As a graduate student, Barnett studied biomechanics with professor David Pienkowski. For her final project, she designed an electronic tourniquet with a digital timer and the ability to direct and control pressure. She received a provisional patent for the project, in addition to earning her master's degree.
After working for Versailles-based customKYnetics for several years, Barnett contacted Clements about applying her electrical and biomedical engineering background at Space Tango. She became a full-time employee in 2016.
"Space Tango is like a family—for us and for our customers," she says. "When we meet up for a launch, we're like friends reconnecting with friends rather than a customer meeting a supplier. Realizing that we're all on this journey together really makes it all worth it."
OUTLOOK
Space Tango's future is bright — and busy. The next launch is scheduled for June, plus two in November that will add about 30 more payloads to their tally.
While Space Tango strives to perfect its technical competency, it is also creating more ways to improve customer experience — especially in the area of social media. Clements says perpetual change is baked into the company's culture.
"We're in an industry that has defined processes for safety. So, we need to have a culture of process. But we also need to maintain an entrepreneurial culture. That's a balance that we constantly battle. It's our advantage and our challenge."
A bias for change means, other than safety protocols, Space Tango isn't locked into much of anything. Constrained by its current facilities, the company is exploring options for expansion. Looking further down the road, Clements gives a tantalizing hint that suggests he is looking toward a post-ISS world.
"Our main goal is expanding our footprint in microgravity — whatever vessel that may be on."