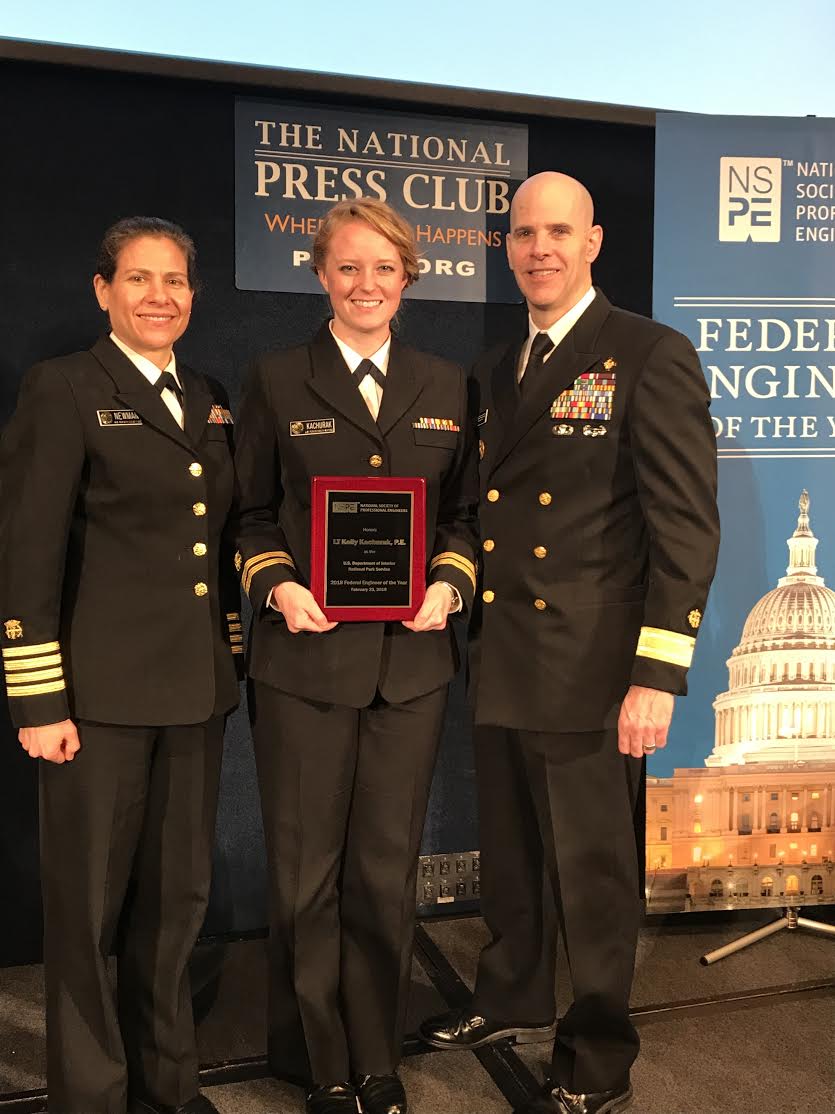 by Juliana Palomino
From sitting in a classroom to seeing bears and rattlesnakes on the job, University of Kentucky College of Engineering alumna and officer with the U.S. Public Health Service, a partner of the National Park Service (NPS), Kelly Kachurak has seen it all.
Having graduated in 2010 with a B.S. in civil engineering, Kachurak now works for NPS as a project manager for the Southeastern Region which stretches from Mississippi to the Carolinas to the U.S. Virgin Islands and Puerto Rico. She handles design and construction projects on various park facilities, which involves coordinating communication between parks and contractors and conducting site assessment visits.
The job has included some wild moments, including seeing a rattlesnake her first day on the job. One day, while leaving a job site at Big South Fork National River and Recreational Area in Kentucky, she spotted a mama bear and two cubs half a mile from where she'd been working.
This year NPS granted Kachurak the Federal Engineer of the Year award, the highest accolade possible for an engineer in the federal service. The award honored a project of hers conducted on Salt River Bay National Historical Park and Ecological Preserve in St. Croix, where she lived for several months. She and her team built a small wet lab research completely off-the-grid in a remote area of the park. They faced numerous challenges, such as handling local management turnover and transporting materials to the island.
"It was a challenging project that really stretched me to my limits. I really learn a lot throughout that process," Kachurak says.
This may look different from the typical classroom experience at UK, but Kachurak has found many connections. She benefitted from a diverse array of classes, from soils and water to structures and geotechnical work. These classes still come to mind when she goes to parks, since she can quickly assess what needs to be done and what specific expertise is needed.
She also benefitted from group projects, an aspect of college she confessed to once hating but now appreciates.
"They're a lot like real life. I work with designers, contractors and heads of natural and cultural resources, and everyone has specific areas that they are supposed to champion. You have to figure out how to talk with people to best meet everyone's needs. The engineering group project experience really helped with that," she says.
As an undergraduate, did Kachurak dream of this adventurous job? Not once. She says it was a turn she never expected.
"Some people have a defined goal of the type of engineer that they want to be and the type of company they want to work for, but things aren't always the way that you think they will be. You often end up enjoying different things."
She encourages students to take advantage of new opportunities and to see where an interest or unexpected job offer may lead.
"You never know what life's going to have in store," she says.