Allan W. Brown, BSEE 1987
Inducted in 2017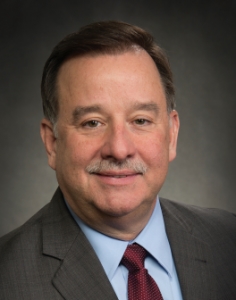 B.S. in Electrical Engineering, 1987
Allan W. Brown entered the University of Kentucky with two core dreams — to fulfill the goal of playing college football and to become an electrical engineer. An injury his sophomore year derailed the achievement of the first dream. However, bolstered by the discipline of hard work and a drive for excellence, Brown graduated with a degree in electrical engineering. Armed with a passion to solve problems and provide solutions that maximize effectiveness and minimize failure, Brown accepted his first career placement in the electronic warfare and intelligence division at Warner Robins Air Logistics Complex in Georgia. In tandem with others, he made significant contributions by introducing signal exploitation capabilities onto the Air Force's existing platforms, providing valuable methodologies and direction for determining the intent of an enemy's threat to the security of the nation.
Brown's journey from Warner Robins Air Force Base to McDonnell Douglas allowed him to significantly contribute complex solutions to jet fighter capabilities and become leader of Boeing's Missile Defense National Team. As vice president and program director, Brown distinguished himself, as attested by several National Security Program awards as well as several technical and management honors. His demonstrated expertise successfully led teams of talented people to address the national need for defense against intercontinental ballistic missiles and created a culture to provide a solid systems engineering foundation resulting in superior mission effectiveness for the entire Ballistic Missile Defense System.
Without compromise, Brown embraced the challenge to integrate national and international industry level expertise with military capabilities so that those serving the country's security apparatus would have the highest level of failsafe technology. Embracing the intricate problems associated with both technical and programmatic issues, he provided invaluable leadership to and with others to help Boeing progress towards the lofty goal of mastering the interconnectivity of the nation's war-fighting, satellite and missile defense systems.
Through his leadership roles for Boeing, Brown has developed a reputation for setting the direction for engineering solutions in the nation's missile defense architecture and in other key national defense systems that have long-term effectiveness.
Brown is a current member of the American Institute of Aeronautics and Astronautics, the Institute of Electrical and Electronics Engineers and Gideon International. He serves on the University of Kentucky Electrical Engineering Advisory Board.
Brown also holds an MBA from the Cox School of Business at Southern Methodist University in Dallas, Texas. He lives in Plano, Texas with his wife, Ginger. They have two children.