Billie Sue Chafins, BSCS 1997, MSCS 2008
Inducted in 2020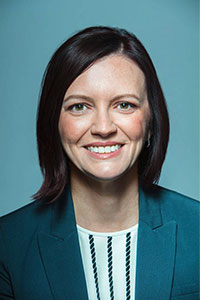 Billie Sue Chafins has spent over 20 years shipping world-class consumer and enterprise software for large consumer technology companies, with over 15 years of experience building and managing teams.
A 1997 UK graduate, Chafins views her computer science degree as the passport to many opportunities she would have otherwise never had. Born and raised in Pike County, Kentucky, she grew up seeing few opportunities for women to pursue professional ambitions and her education altered the course of her life.
Today, Chafins is a vice president of software engineering in Direct to Consumer at The Walt Disney Company, where she leads Web engineering; Identity Management and Access; and Viewer Experience systems for Hulu and Disney+, products, which have 39.4 million and 94.9 million subscribers, respectively. In this role, she leads a team of nearly 300 developers across Seattle, Santa Monica, New York, London and Beijing. Chafins is also the head of Hulu's Seattle Office, where she is responsible for the decision- making and operations of the company's office in Seattle.
One of Chafins' most notable accomplishments has been shipping Hulu + Live TV. She managed the process from early tech investigations through minimum viable product definition to execution and, finally, to launch— nearly doubling the tech team to achieve it. The launch of Hulu + Live TV resulted in an entirely new product line for Hulu, as well as a new business model for the company. In three short years since launch, Hulu + Live TV has grown to four million subscribers and is the leading digital multichannel video programming distributor product in the U.S.
Prior to joining Hulu, Chafins spent 14 years at Microsoft, leading several teams responsible for products like Windows UX and Office.
Committed to building a diverse and inclusive work environment, Chafins serves as an external Hulu representative for diversity and inclusion. She is also a member of Hula, which is Hulu's Employee Resources Group for Women, and Hulu's Women in Tech Group, which promotes leadership, development and education. Chafins also participates in Hulu's Give Back Group, through which she has been a volunteer host for high school students at Hulu's Seattle office and volunteered at a local foster care support organization.
Chafins has delivered talks at SXSW 2019, Calibrate 2019, Grace Hopper Celebration 2019 and 2020, as well as ZDNET 2019. She has been named Geek of the Week by Geek Wire and Seattle Business Magazine profiled her in their Daring Women series. She holds two patents.
Chafins lives in Seattle, Washington, with her husband, Bobby Kolba.