Richard Simpson, BSME 1984
Inducted in 2021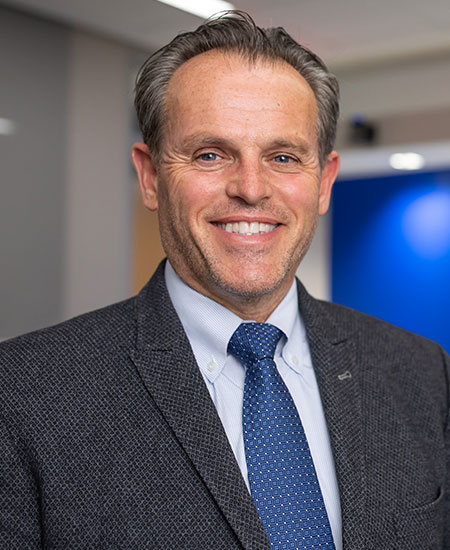 Until his retirement earlier this year, Richard Simpson was the vice president, global supply chain for GE Gas Power. He has been a part of the General Electric family of businesses since graduating from the University of Kentucky in 1984. During that time, he served in numerous executive and leadership roles with a focus on global supply chain that accelerated his development as an operations leader.
A Kentucky native, Simpson initially enrolled at UK with an eye toward medical school. Like many young people, his priorities shifted and he changed his major to engineering because of his interest in all things mechanical, math and science.
Simpson's career began in GE Appliance Park, where he went through GE's Operations Management Leadership Program. GE promoted Simpson to plant manager in 1994, giving him his first executive role. Simpson continued to be promoted through several plants until he was made senior executive in 2003, with responsibility for more than 20 plants. Simpson has been part of three transformations at GE. In each, he brought his leadership skills to bear on the disruptions and changes needed in GE's Appliances, Transportation and Gas & Power divisions.
Simpson was promoted to vice president in 2012. During his career, Simpson traveled to and reviewed operations in more than 40 countries inside and outside of GE. In his last role, he oversaw more than 10,000 team members, 35 factories and an operating budget of more than $6 billion. He retired with 37 years of service.
Simpson says that throughout his career he has been fortunate to have been involved with first-rate businesses and amazing teams. As a result, Simpson has received GE Chairman and CEO Awards for Operations Excellence as well as India Deal Leadership. He is a two-time winner for his sourcing teams' accomplishments. Simpson has also lent executive support to diversity and inclusion efforts within GE's Women's Network and People with Disability Network.
Motivated by Luke 12:48, a passage in the Bible that says, "to whom much is given, much is required," Simpson and his wife, Donna, have devoted a significant amount of time and money to local charities and churches in the communities where they have lived. Simpson has helped raise more than $650,000 for children's charities through Bids for Kids and $700,000 for the American Cancer Society. He has also served on the board of directors of the Erie City Mission and Louisville United Way, as well as the West Virginia and Pennsylvania Make-a-Wish Foundation. In 2010-11, Simpson led the capital stewardship campaign at the Believer's Church in Louisville, Kentucky.
Since retiring, Simpson is actively working with faith-based charities, starting a family business and developing strategic leadership opportunities.
Simpson and his wife, Donna, live in Georgetown, Kentucky, and have two adult children and one granddaughter.