Warren Pratt, BSEE 1974, MSEE 1975
Inducted in 2003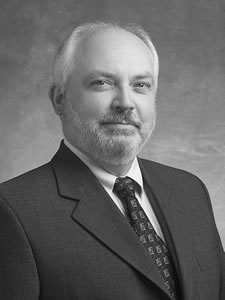 B.S. Electrical Engineering 1974
M.S. Electrical Engineering 1975
Born in Lexington, Kentucky, Warren C. Pratt lived in Hindman, Kentucky until he enrolled in the University of Kentucky in the summer of 1971. With high distinction, he received a Bachelor of Science degree and a Master of Science degree, both in electrical engineering, in 1974 and 1975, respectively. During his years as an engineering student, he was a member of Engineering Student Council and the engineering honor societies, Tau Beta Pi and Eta Kappa Nu. Immediately after completing his Master of Science degree, he pursued further graduate studies at the University of Illinois and received his Ph.D. in electrical engineering in 1977.
After earning his Ph.D., Dr. Pratt located to Loveland, Colorado and began work for Hewlett-Packard Company (HP) as a design engineer. He progressed through the ranks to manage, in various roles, the company's workstation graphics development and many components of its workstation business. While at HP, he was a lead member of the design team that produced the first color desktop workstation in the industry and later managed the development of HP's first 3D graphics products.
In 1991, Dr. Pratt joined Silicon Graphics, Inc. (SGI) in Mountain View California, as vice president of engineering. In this role, he directed the development of SGI's desktop workstation product lines. In 1992, he became vice president and general manager of the Interactive Systems Division, responsible for SGI's high-performance desktop workstation business. Under his leadership, this component of SGI 's business quadrupled over the next four years.
In 1997, he became senior vice president of Silicon Interactive, the group comprising SGI's application software divisions. After the divestiture and spinoff of some of those divisions, Dr. Pratt moved to Ontario, Canada, in 1998 to become president of Alias|Wavefront, a wholly owned independent subsidiary of SGI. As the world's leading innovator of 3D graphics technology, Alias|Wavefront develops award winning solutions for the film, video, game development, interactive media, industrial design and visualization markets. These solutions include the Maya® software product line for the entertainment industry and the StudioTools™ software product line for the design sector. Some of the Maya® customers include CNN, Disney Dreamworks SKG, Pixar, Sega, and Sony Pictures Imageworks. Some of the StudioTools™ customers include AT&T, BMW, Ford, Fiat, Boeing, General Motors, Kodak and Mattel.
Today, Dr. Pratt serves as Chairman of Alias|Wavefront and continues to guide its phenomenal success. With global offices in North America, Europe, the Middle East, Africa and Asia, Alias|Wavefront software has been used in almost every film nominated by the Academy of Motion Pictures Arts and Sciences in the category of best visual effects for the past five years. In March 2003, Alias|Wavefront was awarded a Special Merit Academy Award for Scientific and Technical Achievement.
While continuing his role at Alias|Wavefront, Dr. Pratt returned to SGI's computer systems business in California in May 2000. Under his direction as executive vice president and chief operating officer, SGI delivers to the market new generations of industry-leading products and technologies in high–performance computing, advance visualization, and ultrafast access to large and complex data. Dr. Pratt directed the company's operations as they were streamlined with significant corresponding improvement in gross margins. SGI sells and services five key market segments: government and defense, sciences, manufacturing, energy and media. Procter & Gamble, Computational Engineering International, NBC, BMW, Lockheed Martin, NASA and the Defense Advanced Research Products Agency are among the customers of SGI.
Dr. Pratt's passion for electrical engineering continues to influence his career as he holds a U.S. Patent for Raster Scan Color Display System and Method Having Improved Pin cushion non-Linearity Correction. Amateur radio provides him the opportunity to continue to exercise his electronics and antenna design skills.
Dr. Pratt and his wife, Elizabeth Knepper Pratt, reside near Santa Cruz, California. Dr. Pratt has two children, Michael and Jennifer.