Joseph A. Boyd, BSEE 1946, MSEE 1949
Inducted in 1993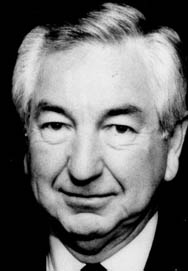 Joseph A. Boyd, educator, scientist and business executive, was born in Oscar, Ballard County, Kentucky. He earned his Bachelor of Science in 1946 and Master of Science in 1949 in electrical engineering from the University of Kentucky. He held a position on the UK faculty while working on his graduate degree and, in 1950, he joined the electrical engineering faculty at the University of Michigan. Dr. Boyd received his Ph.D. from the University of Michigan in 1954. While at Michigan he was also affiliated with the Engineering Research Institute, the University's Willow Run Laboratories, and later the Institute of Science and Technology.
Dr. Boyd entered the electronic industry in 1962 when he joined Radiation Incorporated, a company with a leadership position in pulse-code telemetry. He was named president of Radiation in 1963. He became executive vice president and a board director of the parent company upon the merger of Harris-Intertype Corporation and Radiation. In 1974 Harris-Intertype became Harris Corporation, and moved its corporate headquarters to Melbourne, Florida, in 1978. That same year, Dr. Boyd was elected chief executive officer and chairman of the board. Harris, with worldwide sales of more than $3 billion, is focused on four major businesses: advanced electronic systems, communications, semiconductors, and an office-equipment distributions network. Dr. Boyd retired from Harris in 1987.
He has been active in civic affairs at the local, state and national level. He is a Fellow of the Institute of Electrical and Electronics Engineers, a director of DBA Systems, Inc., and Opto Mechanik, Inc. of Melbourne, Florida, and chairman and CEO of Fairchild Space and Defense Corporation of Germantown, Virginia.
Dr. Boyd is a valued friend of the University and the College. He received an Honorary Doctor of Science degree from UK in 1988. He is a UK Fellow and during his tenure at Harris, the College of Engineering was recipient of a Harris H-H800 computer system.
Dr. Boyd was inducted into the College of Engineering Hall of Distinction in 1993. He and his wife, the former Edith Agnes Atkins reside in Vero Beach, Florida. They have two sons, Joseph Barry and Joel Edd. Dr. Boyd fills his retirement years, in part, with golfing and fishing.