Rebecca Cowen-Hirsch, BSEE 1988
Inducted in 2012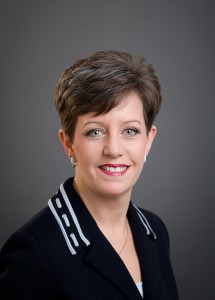 B.S. Electrical Engineering 1988
When Rebecca Cowen-Hirsch was considering which engineering discipline to choose for a major, she determined that electrical engineering would be the most difficult of all the options.
Naturally, she chose it for a major.
"I never shy away from a challenge," she says. "I love solving problems and believed the breadth of electrical engineering—power, electronics, etc.—would give me the most opportunities."
From among a wide range of job offers upon graduation, Cowen-Hirsch took a job with the United States Air Force in 1989. She describes it as an epiphany moment: "I realized I would get to work with the most amazing technology, have unprecedented opportunities and serve my country. How could I possibly turn that down?"
Her position was low-level, an entry position as a systems engineer. The only woman in her unit, she worked on several multi-million dollar projects before accepting her first program manager assignment—an optics program that was $155 million and was supporting the Star Wars space program. While it was unprecedented to have someone as young as Cowen-Hirsch hold such a leadership position, she led her team to perform extraordinary missions that redefined the manner in which the United States and its allies operate in space.
Soon after, Cowen-Hirsch was given the opportunity to be the first female civilian to become qualified as a mission commander. Spearheading a program called ARIA (Advanced Range Instrumentation Aircraft), Cowen-Hirsch's team provided worldwide telemetry collection for satellites, re-entry vehicles and cruise missiles.
"ARIA fundamentally changed the way the Department of Defense accomplished its missions, especially as dependence on satellites emerged," she says.
Ever seeking a challenge, Cowen-Hirsch set her sight on becoming a qualified experimental test flight engineer. In that role, she performed tests on Air Force aircraft, developed each flight test program and reported on each aircraft's capabilities. Her contributions infused new technological capabilities and concepts of operations for aircraft within the Department of Defense, saving billions of dollars and reducing risk of lives lost in operational missions.
In 1997, Cowen-Hirsch became a global force in the satellite business. Conducting international treaty negotiations for the satellite orbital coordination, she led the team that globally coordinated all of the U.S. military and national satellites for the U.S. government. Her success prompted Deputy Secretary of Defense, John Hamre, to issue Cowen-Hirsch a challenge: bring together all of the various spectrum communities across the four branches of the U.S. military into a single organization and design a well-coordinated approach across the entire Department of Defense. The promotion made her the youngest senior executive service appointee in the Department of Defense at that time. She would later oversee the commercial satellite communications program for the entire Department of Defense and overhaul the way it utilized commercial satellite communications.
In 2008, Cowen-Hirsch brought her uncanny ability to bring disparate groups together and work through complex issues to Inmarsat—the world's leading provider of global mobile satellite communications. As the Senior Vice President for Government Policy, Strategy and Outreach, she is responsible for leading the strategic direction, development and execution of Inmarsat's government business across key markets around the world.
"I am proud to use the strong technical foundations, experiences and capabilities I learned at UK, bring them to bear, both technically and in a public policy context, while serving my country at the same time," Cowen-Hirsch says. "It's been an honor to have the opportunities and career I've had."
Ms. Cowen-Hirsch lives in Crofton, Md., with her husband, John Hirsch.